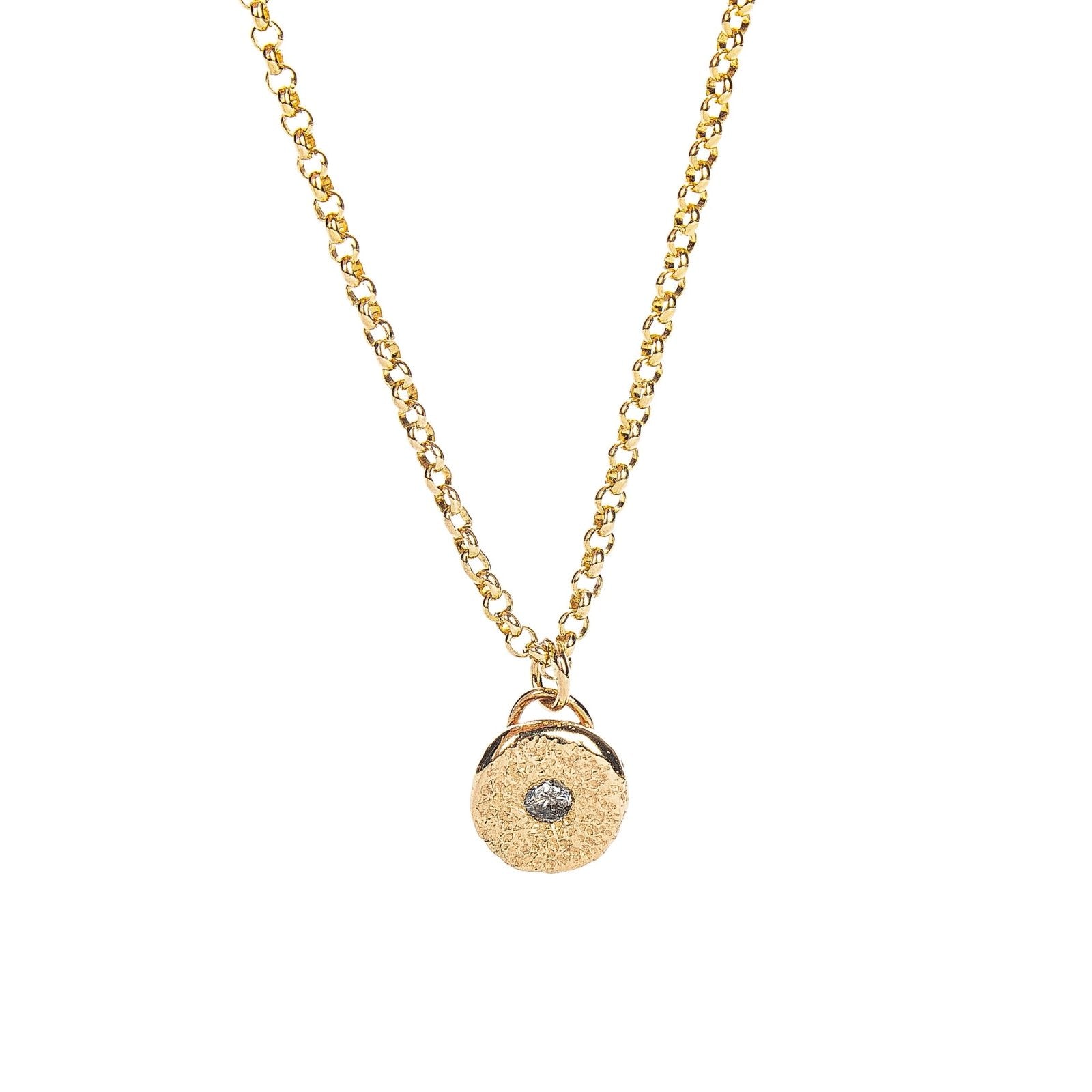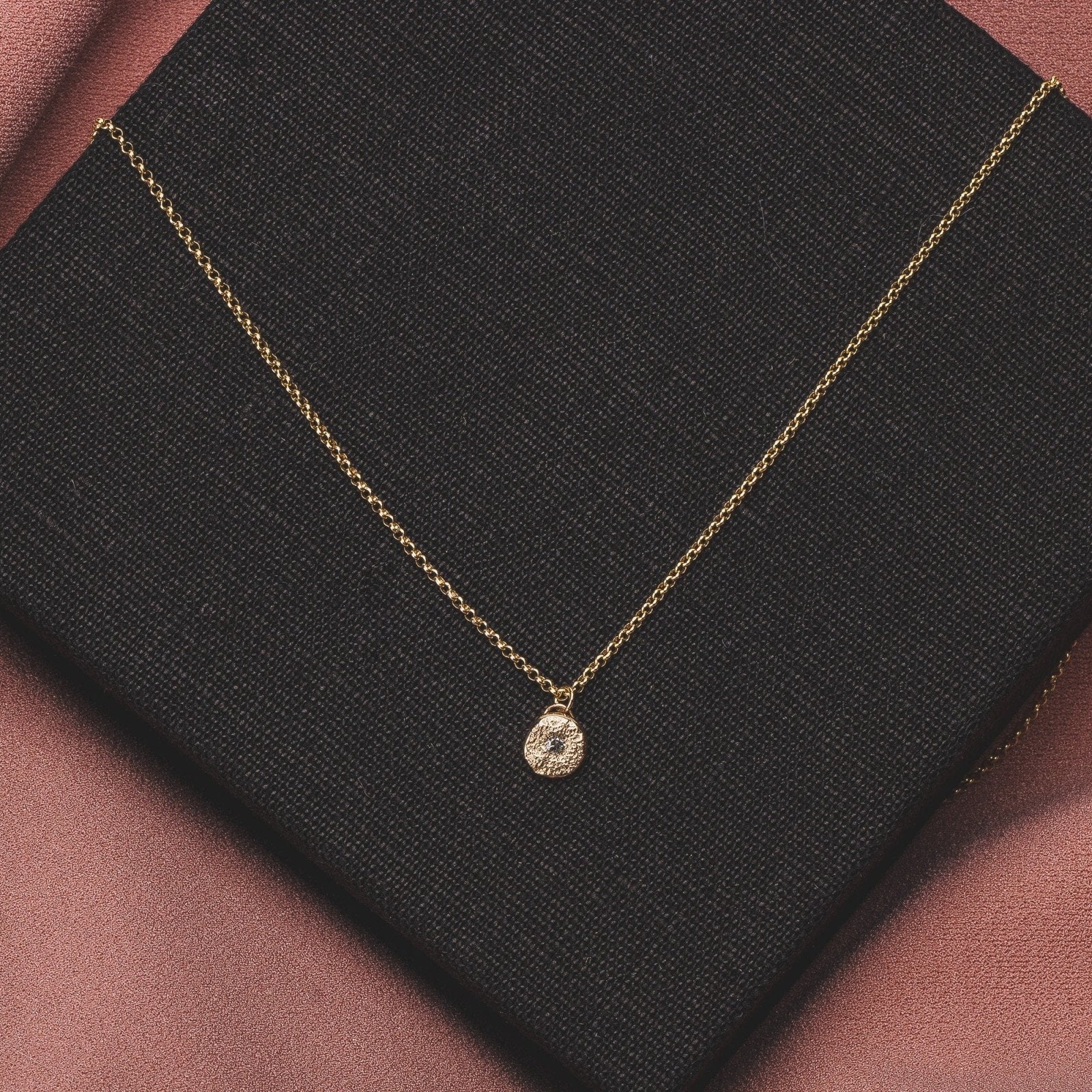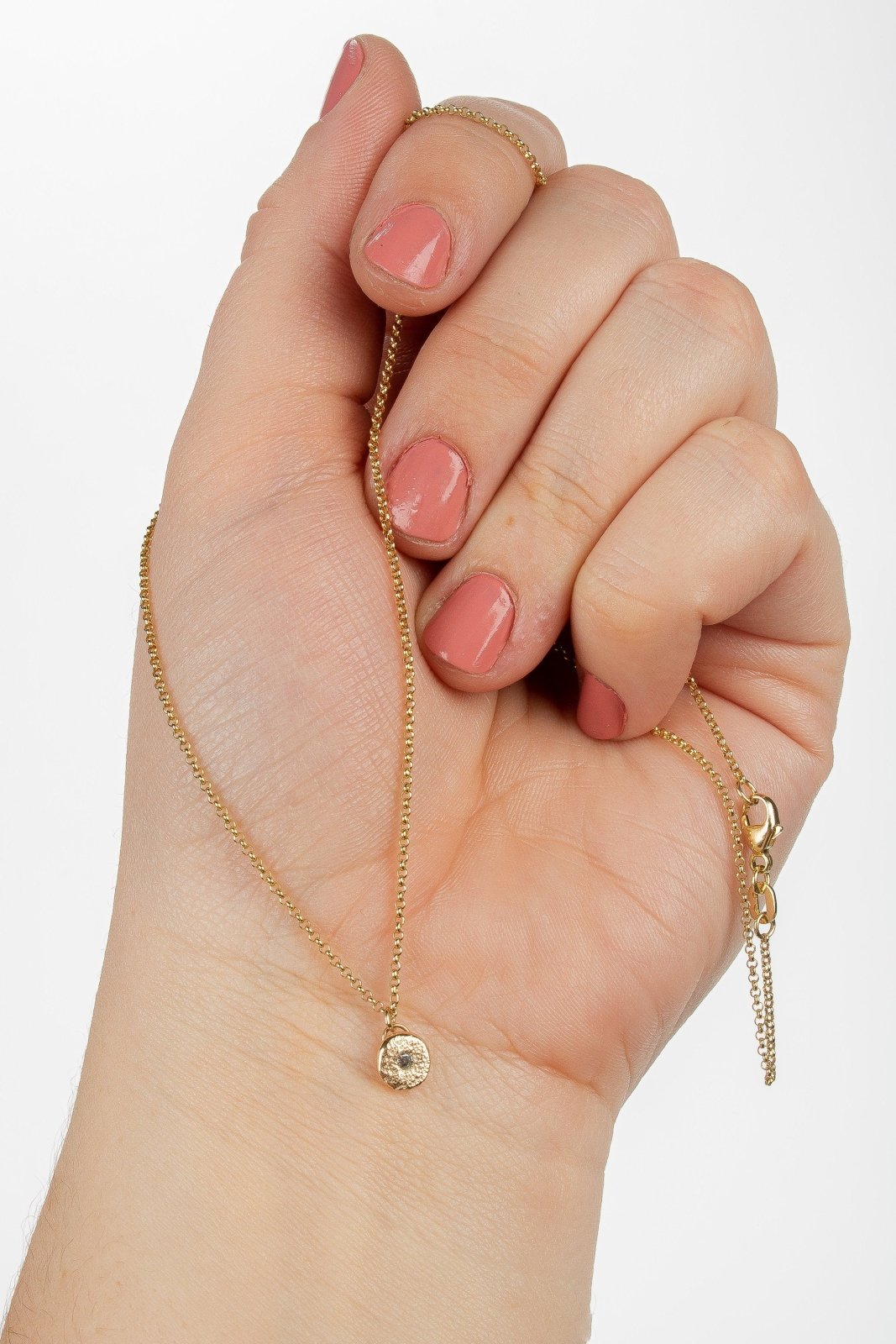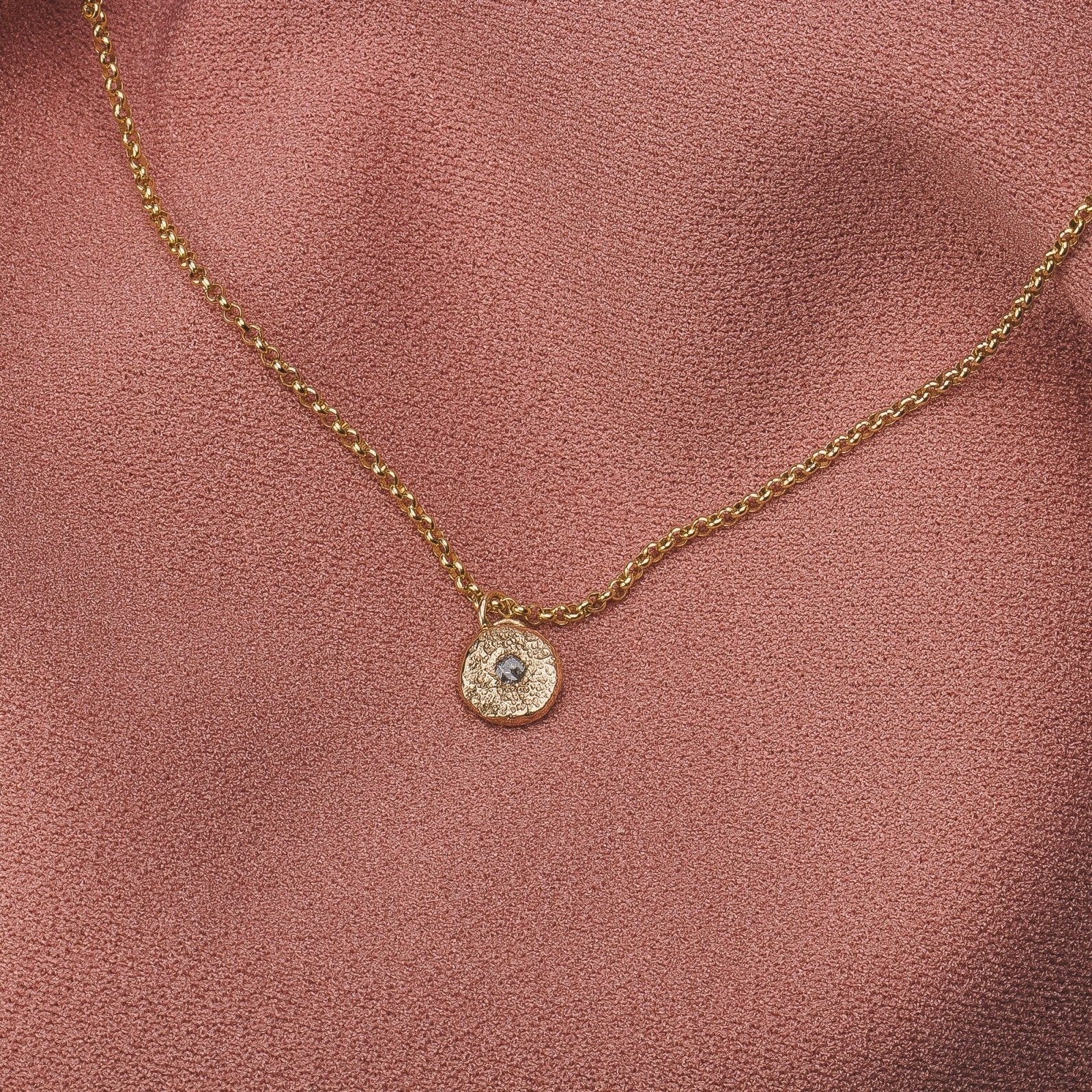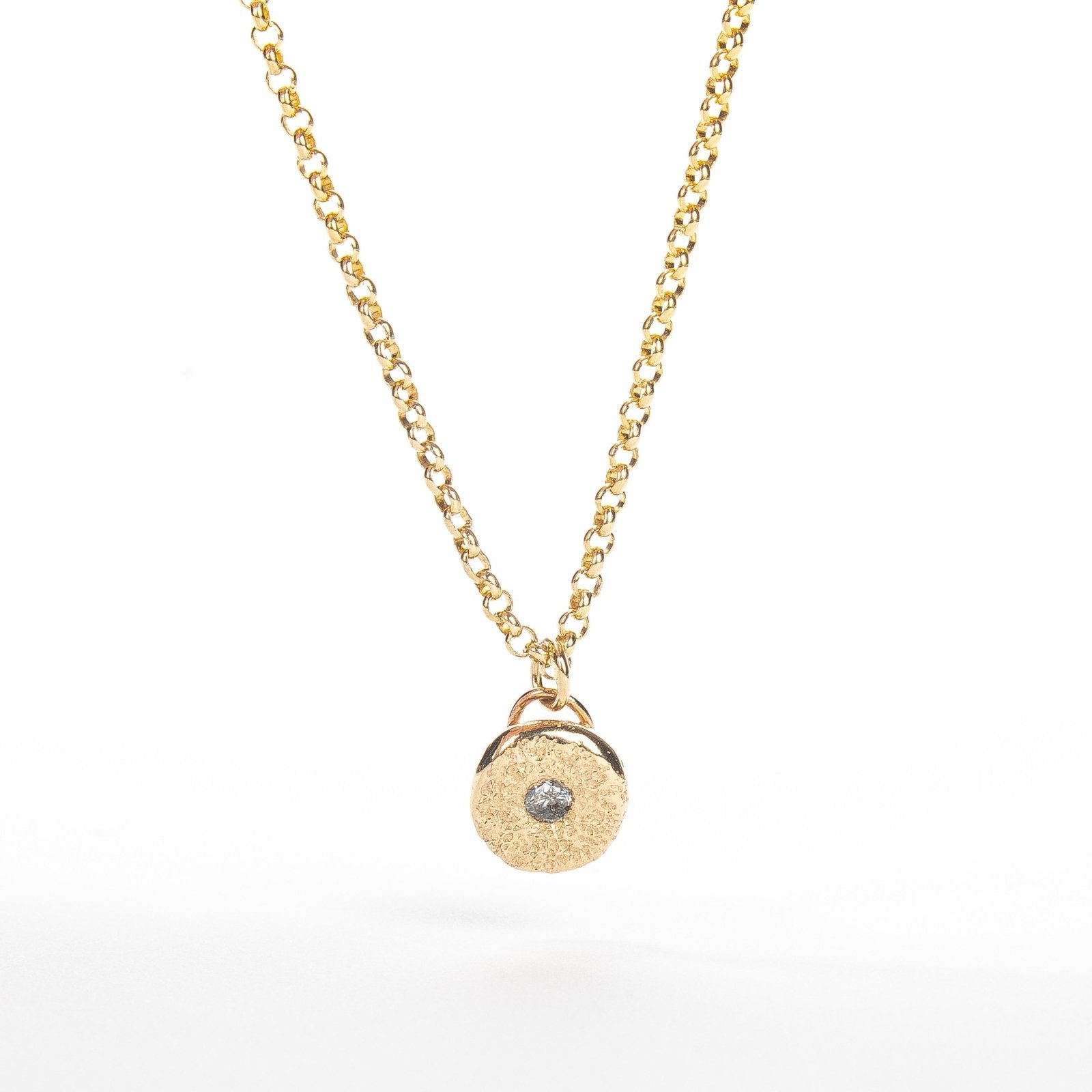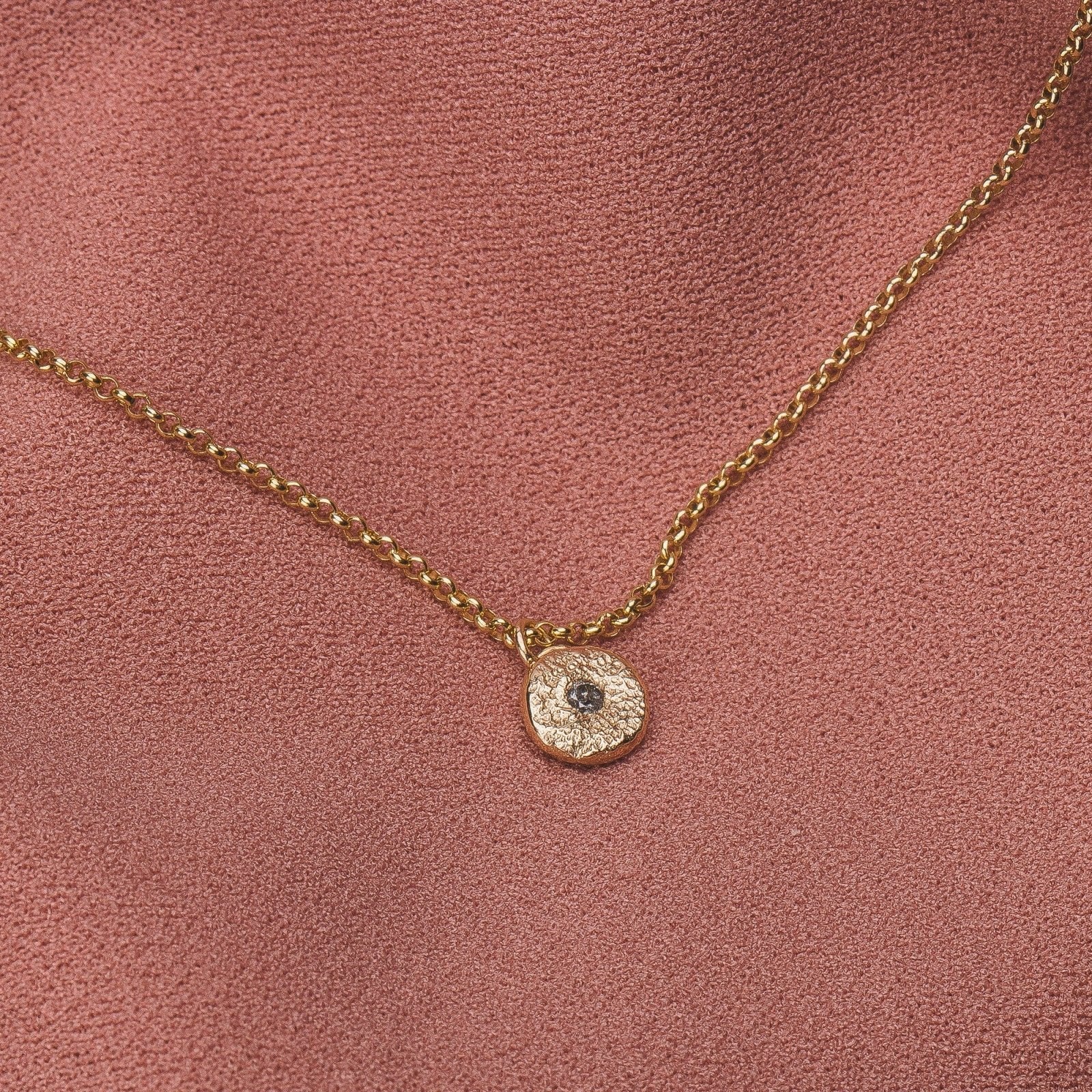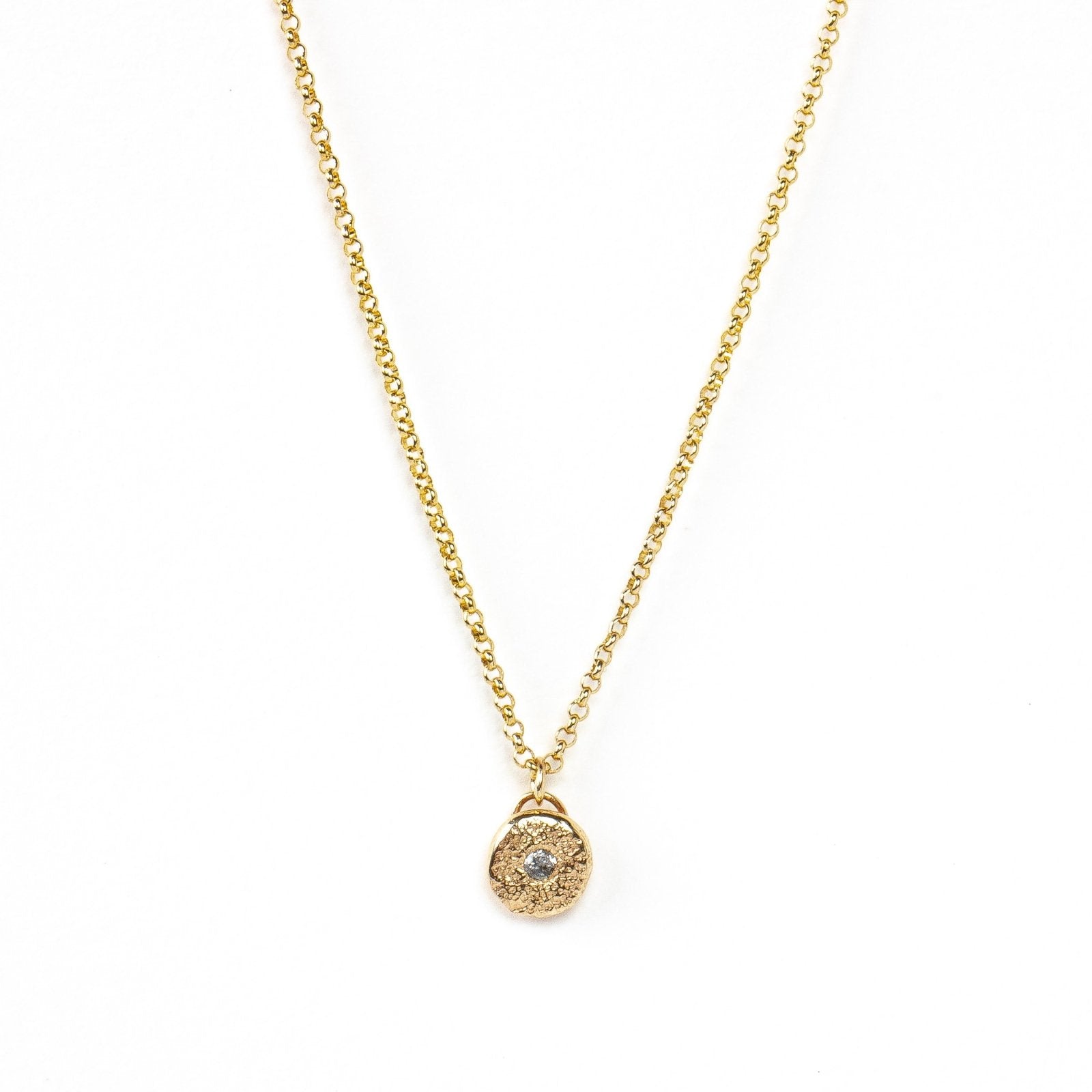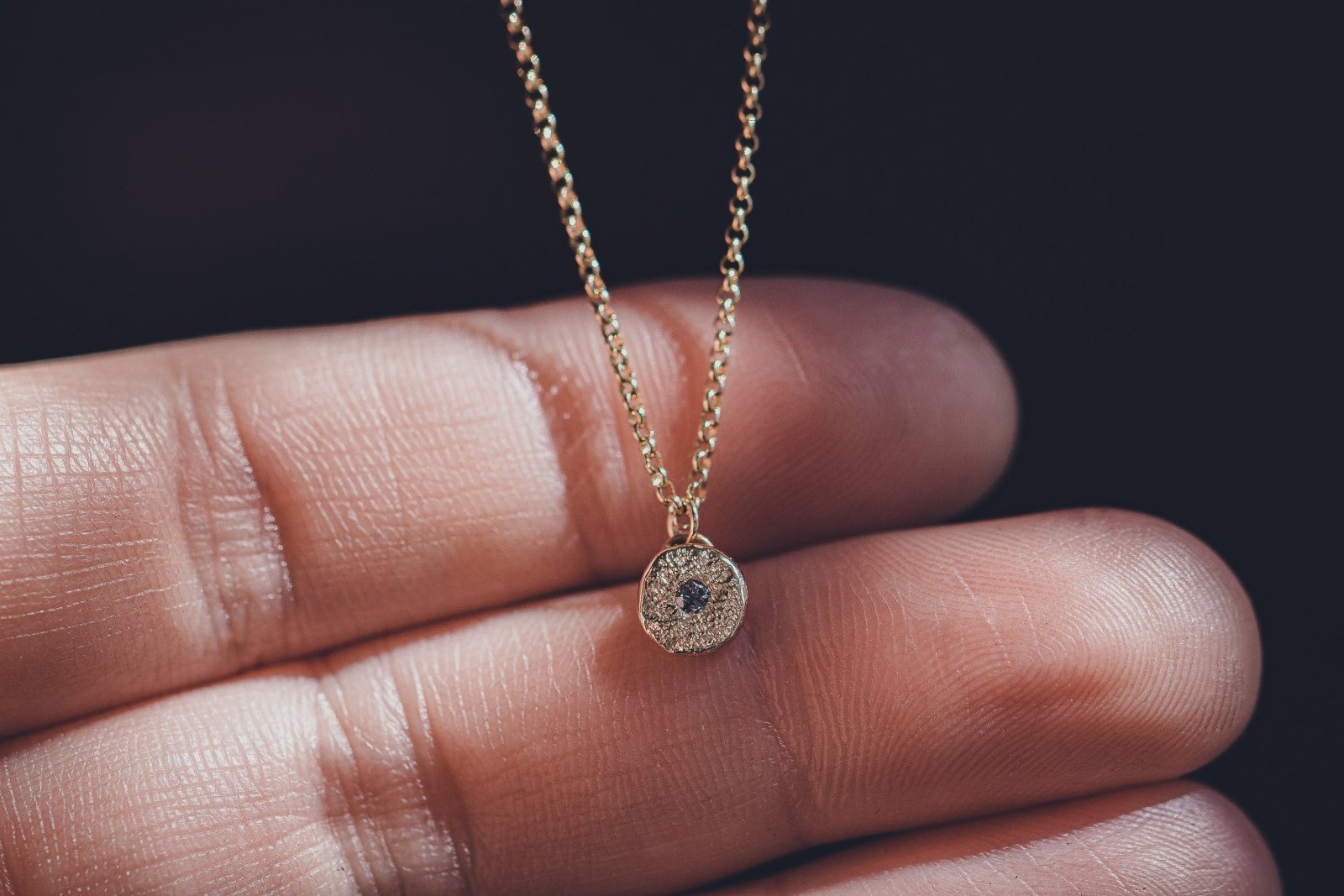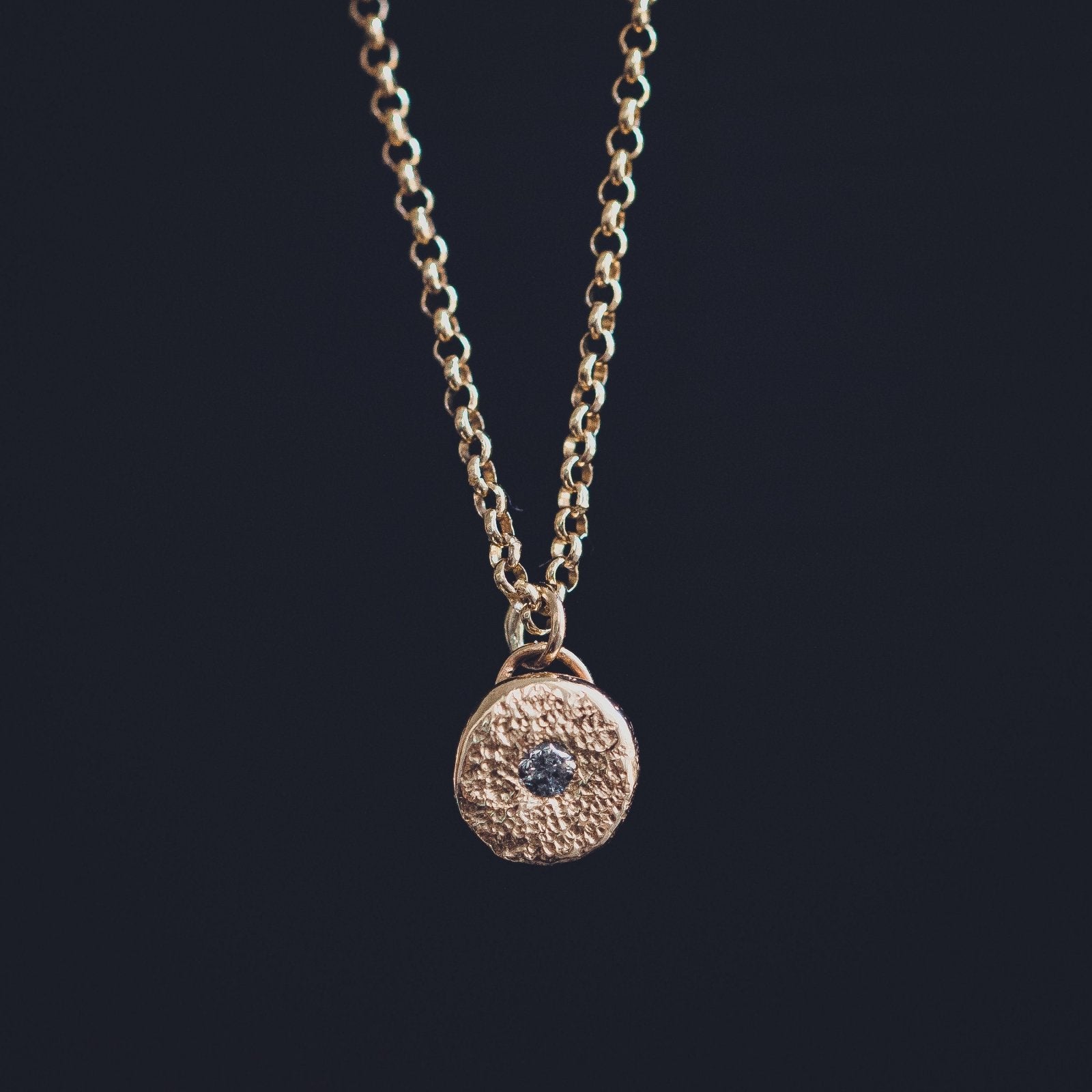 Solid 14K Gold Silvermist Diamond Necklace
Description
I created this necklace from recycled solid 14K Yellow Gold that I melted down, shaped, formed, and textured into this pendant. I flush set a beautiful misty grey colored "Silvermist" diamond in the center.

ABOUT THE DIAMOND
This round natural Silvermist diamond presents a new look in diamonds with its ethereal mist color. Its color ranges from subtle, silver-gray tones to more smoky undertones. This stone, graded I3, has pronounced inclusions that, in the Silvermist diamond, create the natural gray tones.
These natural diamonds feature a round brilliant cut, which is the classic and most popular cut for diamonds. Round brilliant cut diamonds are cut into 58-facets. The number and arrangement of the facets is precisely calibrated to achieve maximum light dispersion.
Diamond is the birthstone for April. Composed only of carbon and shaped by eons of incredible heat and pressure, diamond is the hardest gemstone known to man. When properly cut, diamond generates a high dispersion of light, creating the "fire" of color for which the stone is so treasured. Diamonds occur in nature in a variety of colors including red, green, yellow, blue and black. Folklore says that diamond is the symbol of perfection and illumination, enhancing second sight and stimulating ingenuity.
All diamonds are certified conflict-free. Diamonds are purchased directly from a company who has earned certification from the Responsible Jewelry Council, verifying that they are in compliance with the Kimberley Accord and that the stones meet the high standards of the RJC Code of Practices.
Product Details
Handmade in Texas by Melanie Golden Artisan Jewelry.
- Stone: Genuine White Diamond
- Material: Solid 14K Yellow Gold
- Chain Length: 18 Inches
- Pendant Size: 6mm x 6mm
- Stone Size: 2.25mm (.04CT - I3 Grade)
Shipping
○ FREE domestic shipping, on every USA order.
○ Ready-to-ship pieces are crafted ahead of time and ship within 1-5 business days.
○ Custom & made-to-order pieces are handmade to order and ship within 4-7 business days. 
○ Packaging: Your jewelry will arrive packaged in beautiful branded Melanie Golden Artisan Jewelry jewelry box perfect for special occasions with a black tarnish strip to protect the jewelry from the elements. Jewelry care information is also included.
○ Multiple Items?: Orders including more than one item may be packaged together in the same jewelry box to prevent excess waste. If you require each item to be packaged separately, please leave a note in the "Note to Seller" box during checkout and we will be happy to include additional boxes for each item.
Sizing Guide
View our Sizing Guide HERE!
Jewelry Care
With proper care, your jewelry will last a lifetime. To minimize damage, store your jewelry in an air tight container (such as the box it arrived in) and avoid exposing it to household chemicals.
To prevent tarnish, a dulling that naturally occurs when metal reacts with the ambient air, clean your jewelry with polishes or cloths formulated to remove tarnish to keep it bright and sparkling--we sell one HERE.
Wearing your jewelry often is the best way to prevent tarnish. All jewelry comes with a black tarnish strip to protect the jewelry from the elements. Keep this sealed with your jewelry to protect it from tarnish for up to a year.
Happiness Pledge
We want you to love your new jewelry! If you aren't totally satisfied, just let us know. We've got you!
Solid 14K Gold Silvermist Diamond Necklace